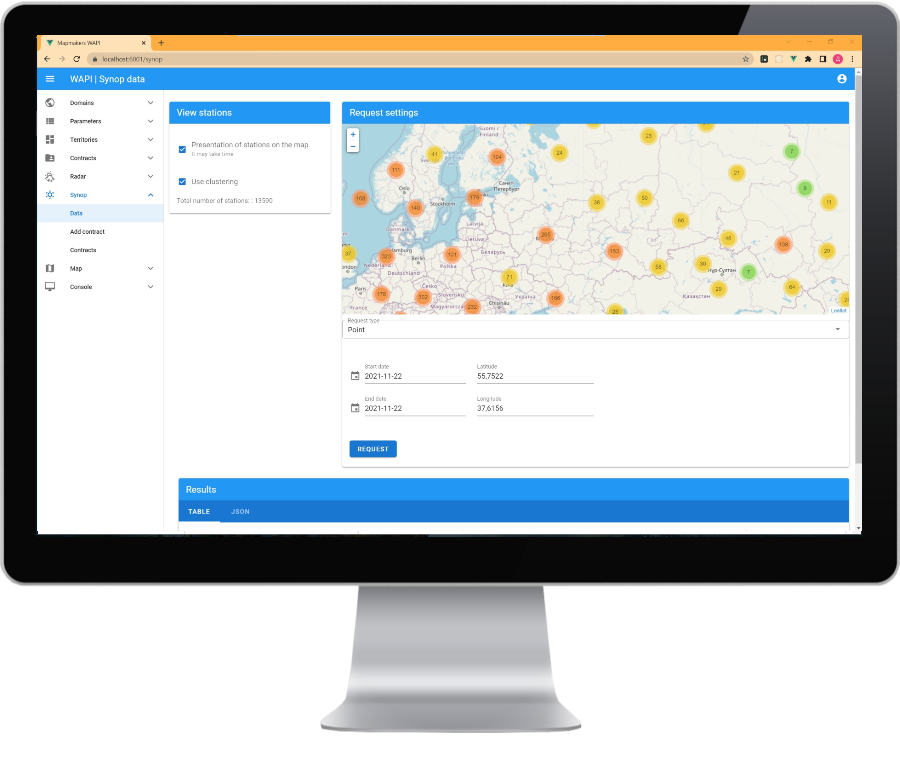 WEB SERVICE FOR B2B CLIENTS
Mapmakers WAPI Service is the specialized weather web service for providing weather forecasts, reanalysis data, weather maps, and radars
APPLICATION AREA
The service provides weather forecasts for commercial and governmental companies whose professional activity is highly dependent on weather conditions
SERVICE CAPABILITIES
The service provides access to several dozen major meteorological parameters, the full list reaches several hundred. The serviced territory covers entire Eurasia. An interaction with the service is implemented using REST API calls, which is a quick-to-learn, convenient, and user-friendly interface. Data are transmitted in JSON format. More detail on the REST API can be found in tech manuals.
Routine short-range forecasts;
Long-range forecasts;
Marine forecasts (subject to agreement);
Reanalysis data;
Synoptic data;
Weather maps;
Radar.
STRUCTURE
The service consists of the user interface and includes the following types of data:
Routine forecasts. Time step is 1 hour for a lead time of 0 to 90 hours, 3 hours for a lead time of 90 to 144 hours, 6 hours for a lead time of 144 to 234 hours. Spatial resolution is 2 km.
Long-range forecasts. Time step is 6 hours. Lead time is up to 45 days.
Reanalysis data. Time step is 1 hour. Spatial resolution is 30 km. Data from 2000 till now are available.
Weather station observations.
Weather radar data.
WEATHER DATA PRESENTATION
Weather data can be presented as plots or digital values
Precipitation
Soil temperature
Air temperature.
Data can be requested either at a point, transmitting geographic coordinates (latitude, longitude), or over a territory, specifying a certain region. For the territory, the system will automatically determine the points with a necessary step in km and will select weather data for them.
USER ACCOUNT
A personal account is provided for the service users, in which daily billing of the number of requests to the service, the number of requested territories and points is provided. It is also possible to perform actions with your territories: to view the territories, to order new ones and to delete old ones.
SYNOPTIC DATA
Synoptic data are observation data from weather stations involved into the preparation of forecasts and weather maps.
By developing our own observation data collection center (ODCC), we accumulate a huge amount of actual meteorological information coming from weather stations. After the multi-stage processing, these weather data are transmitted in a structured form and become available to customers through the WAPI service. Actual weather data inform about current weather conditions directly at the weather station location and are used in specialized analytic client systems and portals.
WEATHER MAPS
Weather maps are the objects prepared as isolines and polygons, which can be presented on a geographic map. The option is suitable for creating various animations for the visual presentation of weather phenomena, such as precipitation, wind, thunderstorm, etc.
RADARS
The service provides access to the data from available weather radars and informs about severe weather events with a lead time to 6 hours.
Severe rapidly evolving weather phenomena are thunderstorms, thick cumulus clouds, intense precipitation zones.
Such information is in demand when planning various economic activities for the next few hours.