AUTOMATED WORKSTATION OF A HYDROLOGIST-ANALYST
GIS Meteo Hydro software allows you to solve the following tasks:
Rivers and reservoirs monitoring
Ordering of hydrological data
Snow cover monitoring in forests and agricultural areas
Logging of hydrological forecasts
Advice and help information on the hydrology regime for different industries (energy, water transport).
FORECASTS
Automated workstation of a hydrologist analyst forecasts:
The values of flow rate and the volume of runoff
The influx of water in reservoirs
Time of onset of the characteristic phenomena of the water regime and the onset of ice phenomena
The thickness of the ice
The limit values of hydrological phenomena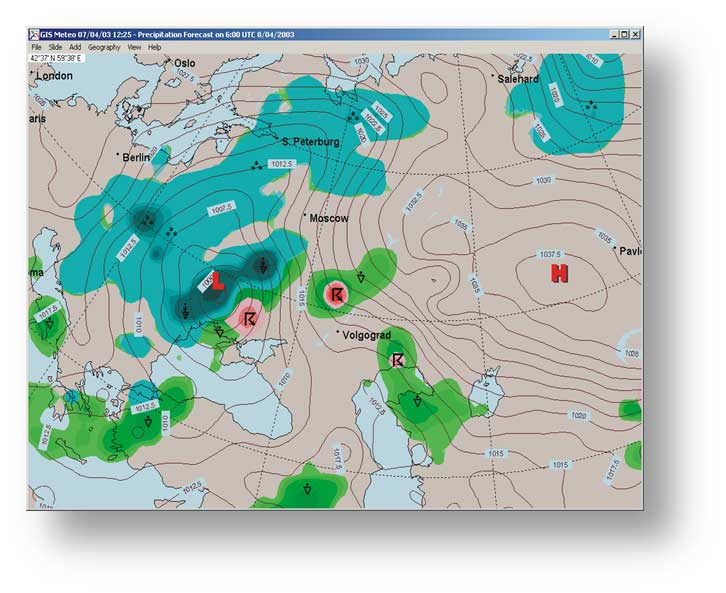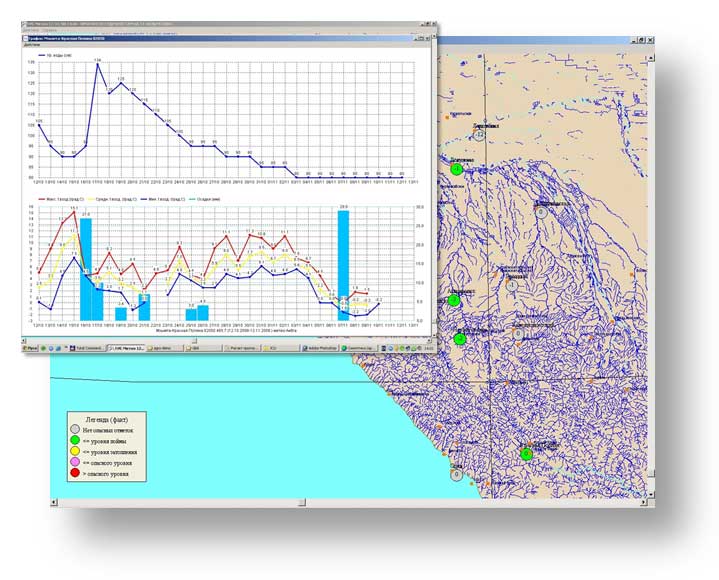 Long-term forecasts
Prediction of hydrological phenomena
Forecasting of flash floods and of flooding of floodplains
Analysis of flood events
Forecasts of the height of wind waves on lakes and reservoirs
Satellite images
GIS Meteo HYDRO software can be provided with satellite RADAR SAT imagery of the Earth's surface (snow, ice conditions in the water bodies of land), HRPT and TERRA / MODIS imagery.
DATABASE
Local database contains current information of hydrological gauging stations for the last five days, and a relational database from all hydro-meteorological and agro-meteorological stations of a serviced area for the current year and an archive of the past including numerous normative data.
MODEL CALCULATIONS
An automated workstation of a hydrologist-analyst provides the ability to use model calculations within servICed local water bodies.
INTERACTION WITH an automated workstation of a meteorologist-analyst
As hydrology forecasters need maps of surface analysis, maps of air temperature and precipitation of a different time length, please install a meteorologist's software.